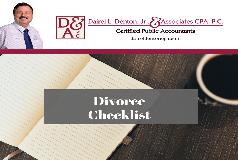 One of the most common concerns with divorce is financial survival. A big mistakes most divorcing couples make is by not being fully away of their finances and how divorce impacts them. For couples facing divorce it's important to take inventory of your financial situation, gather copies of financial documents, bank accounts, retirement accounts, debts, etc. before any legal proceedings begin.
Most divorce attorneys will require a financial gathering questionnaire so that any property, income, debts, and assets can be split properly between the parties. Here is a checklist to consider when gathering information:
- Income information, which can come from a recent tax return or payroll stubs
- Retirement plans, including: 401Ks, IRAs, Thrift Savings Plans, 403Bs, etc.
- Account balances of any pension plans, profit-sharing plans or employee stock options
- Statements of any other investment or brokerage accounts
- Insurance Policies
- Contents of any safety deposit boxes
- Bank accounts, including: checking, savings, money market accounts, certificate of deposits (CDs)
- Any loan balances – mortgage, automobile, personal, school
- Any credit card balances
- Appraisals of any assets owned
- List of all you and your spouse's personal property that was acquired before and during the marriage
- List of any inheritance received