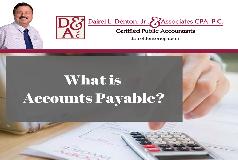 In a simple term, accounts payable is money owed to creditors. Accounts payable may refer to:
The accounting department that is responsible for processing invoices and other bills for goods and services that a company received.
The title of the account containing the amounts owed for invoices and other bills that have been approved but not yet paid.
Amounts owed, which do not involve a promissory note. If a promissory note is involved, the account Notes Payable will be used instead of Accounts Payable.
If you have any questions or would like to sit down with one of our Certified Public Accountants to discuss how we can help you, give us a call at 573-686-3053.